I have done 5 real estate transactions with Mark including the recent sale of my home in Danville, which went pending in less than a day and sold for well above asking. He is patient, reponsive, fair, and very detailed oriented. Mark makes all the real estate processes seamless. I've recommended him to several family members and friends and they all feel the same way after working with him He's not just my realtor, he's family, and I trust him implicitly. Onto the next property!



Reviewed by Jennifer J.

My wife and I had the pleasure of working with Mark when we decided to sell our Burlingame home. Mark impressed us with his calm demeanor, market expertise and willingness to remain nimble. He presented a clear plan that included investment on our part to maximize top dollar. His team jumped into action and he showed up daily to handle everything from contractor management to running to Home Depot for lighting. Mark maintained exceptional communication and held the line, encouraging us to maintain our high asking price, when others were recommending price concessions after only 10 days. We always felt he had our best interest at heart and took his fiduciary responsibility very seriously. We ended up selling our house at the exact price that we were told "we would never get". We credit much of this to his sage guidance and steady hand. He did not jump into this business yesterday, he invests in his own professional development, provides exemplary negotiation skills and is willing to go above and beyond the call of duty whatever it takes to get the job done. If you want a true partner...a true professional...a true expert who will fight for you and your family, call Mark. We highly recommend Mark Tauber and endorse him completely.



Reviewed by Michael and Sarah L.

I have had the pleasure of knowing Mark on a personal and more recently a professional level as my realtor. I cannot say enough about what a professional and caring realtor he is. I have worked with several realtors over the years and honestly cannot say there is a more knowledgeable, efficient or more caring realtor than Mark. His follow-ups and promptness on all his actions are impeccable, as well as taking a personal interest in each one of his clients. He literally takes the worry of his clients and takes it on himself to make you more at ease. It is an honor to work with someone of such character and I would refer him to anyone.





Reviewed by Susan J.

My husband and I were just starting our search for our first house when Mark was recommended to us by a friend. We are so glad we had his help with every stage of the process, from finding an area to live that meets all of our needs, to looking at various properties and figuring out the pros and cons of each and narrowing down our choices, to getting our bid accepted. We've been living in our home for nearly two years and it's amazing how spot on Mark was with his advixe about the neighborhood as well as the pros and cons of other properties we looked at. Throughout the process Mark proved time and again to be knowledgeable, responsive and reliable. I absolutely recommend him!


Reviewed by Lena G.

Today my siblings and I closed on a 2 unit building in San Mateo. We got lucky. Mark Tauber was recommended to me by another agent where I live. Mark exceeded our expectations. He is professional, articulate, honest and he knows his business. He managed every detail for us including selecting the paint color. He managed all the other professionals that it took to bring our property to market. I have been involved in a number of real estate transactions but I have never been compelled to sit down and give a glowing review on any of them, but Mark is the exception. Actually I have never given any of them a review. I can only say if you want a dedicated hardworking agent representing you call Mark Tauber. He is really superior.

Reviewed by Sandy R
Mark is a wonderful agent, he really went above and beyond to help us find the home of our dreams in San Mateo County. We looked for several months, and he was very patient and gave us honest feedback on the homes we were looking at. I am so thankful for his invaluable help in buying our first home. Thank you Mark!

Reviewed by Nicole W
I worked with Mark on a purchase transaction and he was fantastic. He was professional, responsive, and was on top of everything every step of the way. Mark truly cares about his clients and stays in touch with them long after the purchase closes. When it comes to real estate, he is a real expert who does things right. For a hard working realtor you can trust, work with Mark!

Reviewed by Julie F






Mark Tauber
Broker Associate
Coldwell Banker/Global Luxury
1427 Chapin Ave.
Burlingame, CA 94010
DRE#: 01173294

Clients First!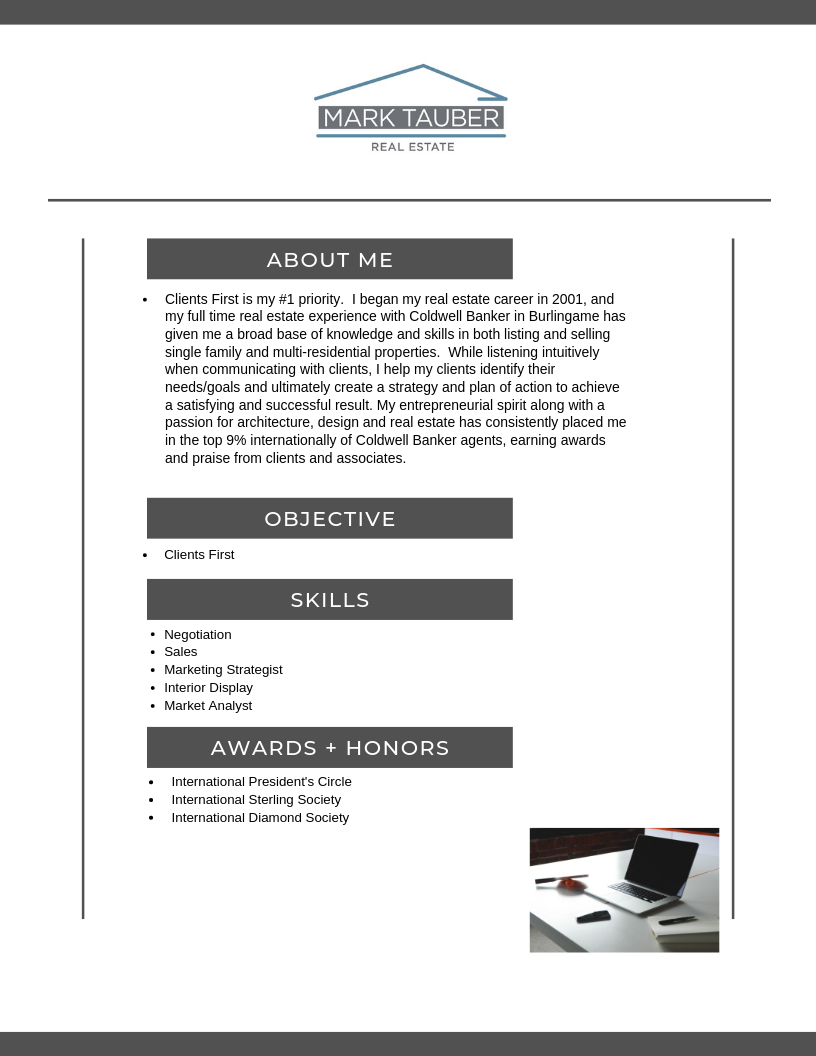 If you are planning to place your home on the market or to purchase one, please browse my web site for valuable information, tools and reports.

As a real estate specialist I am passionate about my job. My valuable skills blended with the latest technology, trends and stategies help make your real estate experience a satisfying and successful one. I appreciate the opportunity to serve you in all your real estate needs.



Your satisfaction is my success!